Pact System – Torchlight Infinite Guide for Beginners
---
While playing Torchlight Infinite, a new system should unlock for you once you've hit level 14 on average. The Pact System is a small bonus menu whose mechanics can also influence your gameplay. A lot of players underestimate its value by just placing points and pact spirits randomly. We are here to teach you a better way to understand how this system works.
Once you level up to 14, you should see this indicator for a tutorial. It should be a straightforward mechanic that should take less than 5 minutes to complete.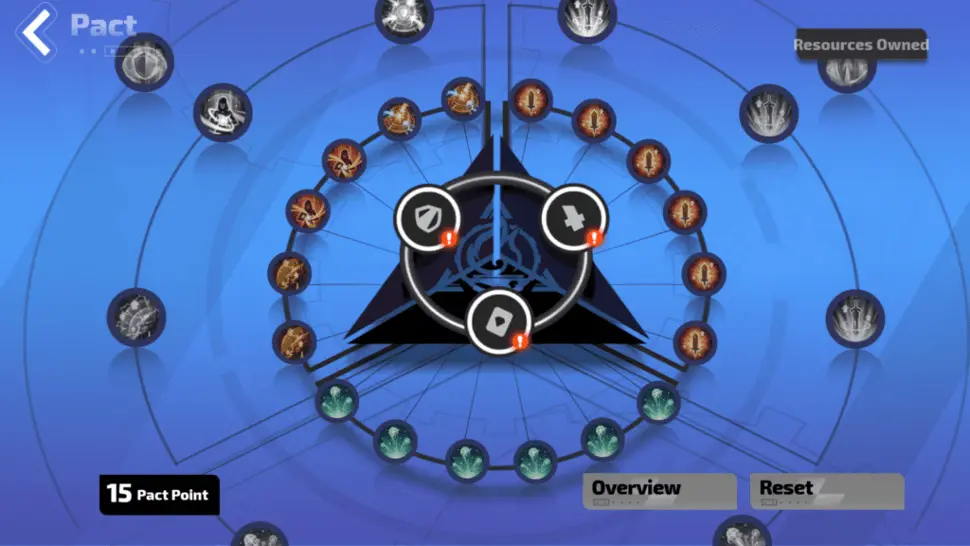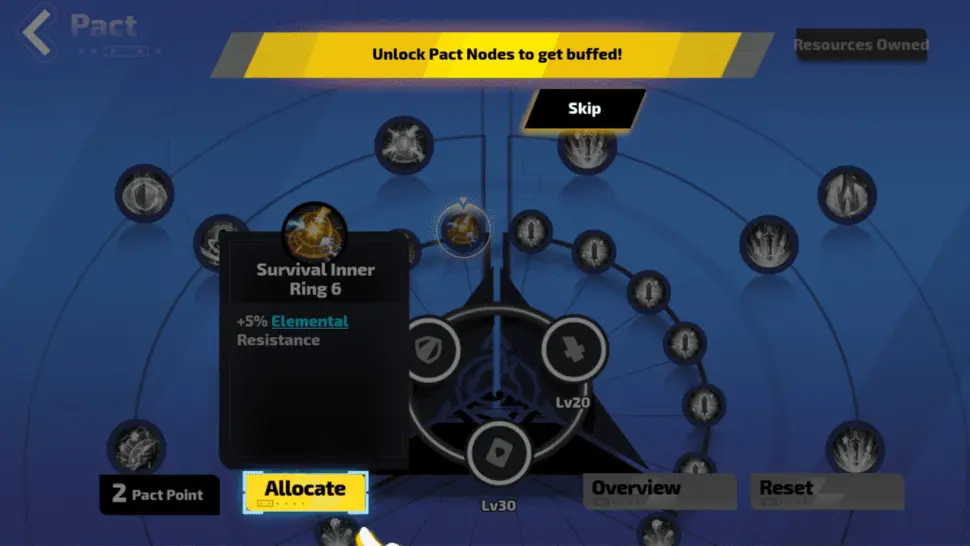 One thing to note is that Pact Points and Pact Spirits can be reset at any time and level without a cost, a feature that is welcomed by the player community and hopefully is maintained or gets better with each update.
Each ring in the Pact system requires a certain number of Pact Points to unlock the next layer. 2 points in the inner ring to unlock the middle ring, and 3 points for them to unlock the outer ring. Some pactspirits have a trait that changes the bonuses of a selected ring or all of them together, this makes for levels of customization per character.
Pact Spirit Tutorial
In chapter 2, visit Larian at the Sanctuary to obtain the PactSpirits. Larian's an odd merchant who lets the parrot do the talking for him. The rest should be self-explanatory, as a tutorial guide would teach you more.
Remember to set the Pact Spirit to "follow" you so it can automatically pick up loot. For first time players, you will unlock 10 draws for the boons that you focused on in the shop to acquire pacts. Buy them from the Boons using Primocrysts. This should give you a generous following, but think before you spend. To learn more about each Pactspirit, click on its magnifying glass. If you have not decided on anything just yet, Please read our guide below to help you decide which Pact Spirits to purchase and set with your chosen champion.
The Anatomy of a Pactspirit
A pact spirit is a sort of pet that will have traits to influence your gameplay. Knowing these details will help you cater to your character bonuses as you place them in the respective slots. They vary in rarity, tags, and effects with a gacha system to randomize the percentage to get Legendary Pactspirits.
It is obvious that the Legendary Pactspirits offer more than Magic or Rare Pactspirits with their traits and effects. this will provide a huge advantage to those possessing Legendary Pactspirits even if their percentage to summon is quite low. As you draw more pactspirits there are duplicates than can be used to receive upgrade rewards.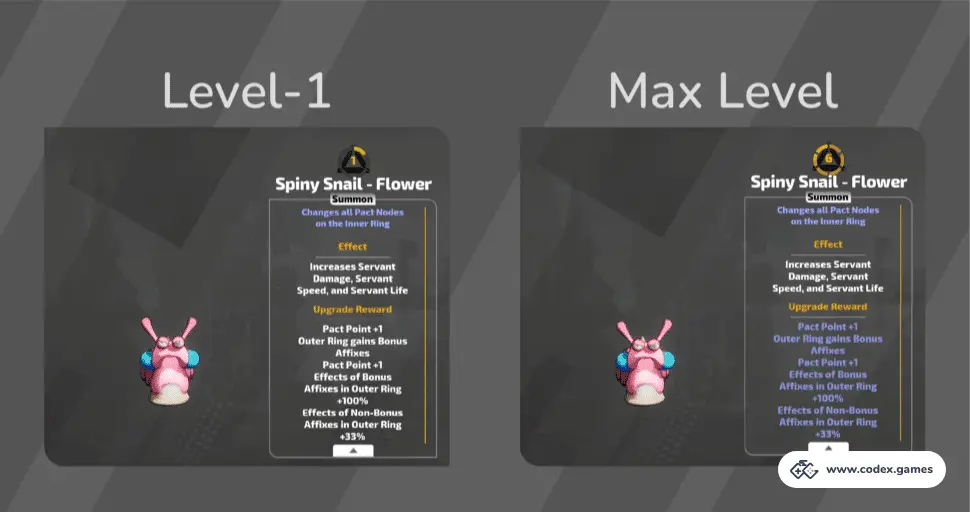 Every duplicate Pact summoned will level up a Pactspirit and unlock new features as indicated by the image from a level 1 to a fully upgraded companion. So even the common Pactspirits have a fighting chance when placed side by side to a legendary Pactspirit.
The Best Pact Traits
The Best Pact Traits to get as you acquire a Pactspirit would be best suited with:
Loot Drop Rates as getting better gear is important in all stages of the game.
Resistances to go against the mobs and bosses in the endgame.
Which Rings Involved as changes are made with Placed Pact Spirits.
Exp Gains for those who want to level up faster.
The Best Pacts Per Class
Each class will be better optimized with these pacts, note their traits and how they impact the allocation points. We will preview a list of recommended pact spirits per class but do note that since all effects are randomized, you would do best to find a similar Pactspirit to help you build up your chosen character.
Berserker Rehan
Berseker Rehan's Pactspirits focus on attack, attack speed, critical strikes and elemental resistances
Commander Moto
Commander Moto's Pactspirits are based on servant buffs with attack, speed, cooldowns, and life as the basis for his Machine Legion.
Ice-fire Gemma
Ice-fire Gemma's Pactspirits increase her magic's cooldowns, spell damage, and casting speeds.
Divineshot Carino
Divineshot Carino's Pactspirits are all about attack damage, projectile speed, and critical strikes.
Spacetime Witness Youga
Spacetime Witness Youga's Pactspirits have damage over time, skill duration, and damage affliction properties.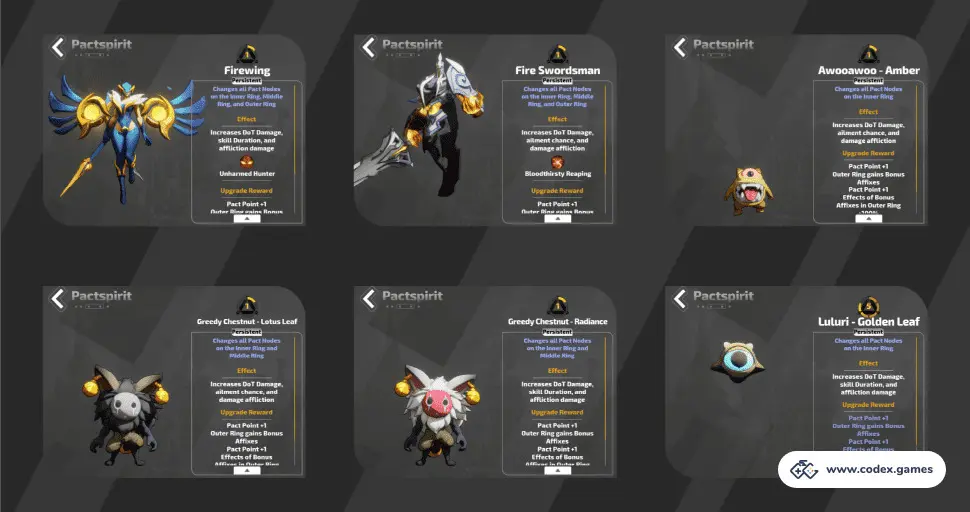 Oracle Thea
Thea's Pactspirits have mana restoration, elemental damage, piercing and cast speeds for her ability use.
Cateye Erika
Erika's Pactspirits focus on attack,attack speed, critical and critical strike chances for her ability use.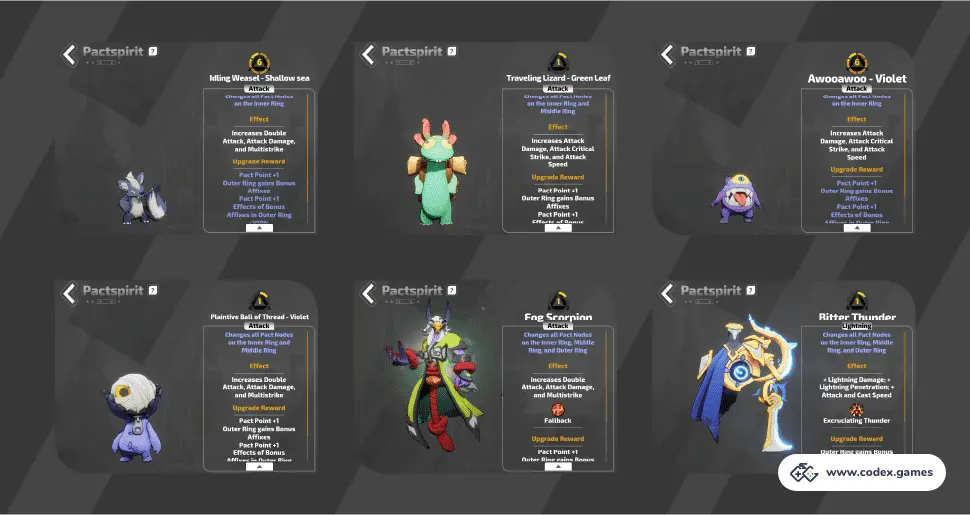 Pacts for Story and Endgame
While having a basic Pactspirit layout for completing the story is a fairly straightforward affair. Endgame content with the Netherrealms is a different matter. It is here where Torchlight's P2W system takes over, as having better or leveled up Pactspirits gives out the needed bonuses such as damage, loot drops, and experience gains sorely needed to advance through endgame content.
While this system is a cause for concern for the community with a P2W system, many players have finished the Netherrealm endgame with only the base pets given to them at the start of the game. Practical advice for those on a budget: spend wisely. With these things in mind, we hope you find our other Torchlight Guides worth the knowledge they contain. Click on our related articles for more on Torchlight Infinite.
---